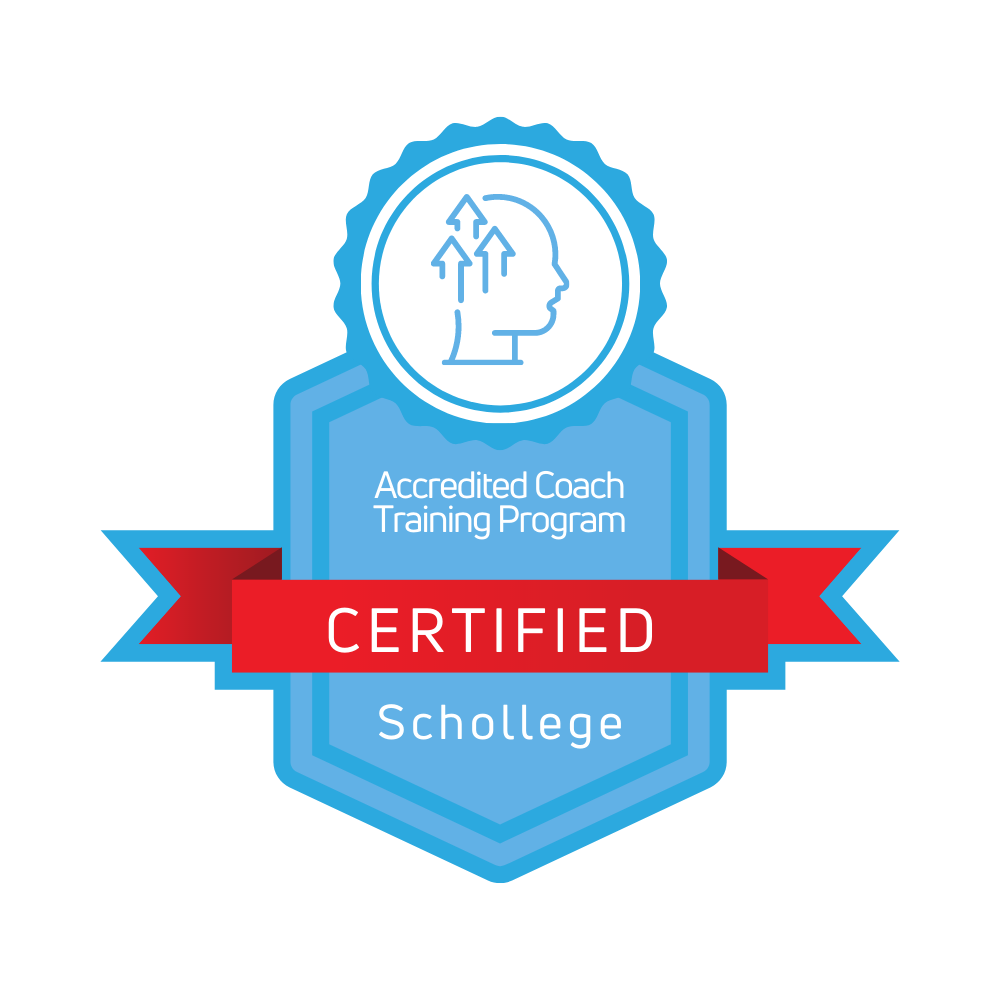 It's a great time to become a professional coach—coaching is a $2 billion industry and one of the fastest-growing industries globally! Whether you are new to the coaching field or have been practicing for years, this course is for you. It will take you from foundation material to advance techniques and strategies to help transform your clients' lives.
You can coach clients on any topic you love or any experience you have. Whether it's to help them enhance a skill, reach their goals, find meaning and purpose in life, overcome challenges, discover true happiness, advance their career, feel confident, start a new business, get healthier. Or any other way that inspires you to transform their lives! 
Accredited and Endorsed by the Australian Institution of Professional Development (AIPD), the Association for Management Education and Development (AMED), The Institute of Directors (IoD) and the Coaching and Mentoring Network
This course is developed to train you with everything you need to become a professional coach, obtain accurate results for your clients, and create a thriving coaching business! 
You'll develop assertive communication skills, including powerful listening and vital questioning, that will allow you to assist clients in creating a better understanding of themselves. 
You'll discover core coaching tools that will help you empower your clients to follow through and reach their dreams. 
You'll develop the right success mindset, including:
Developing 

emotional intelligence

Establish 

rapport 

with your clients

Ensure you and your clients are approaching coaching with a 

growth mindset

Develop 

confidence as a professional coach. 

 
You'll gain the skills, tools, mindset, and processes to thrive as a professional coach and make a difference in people's lives. 
So, are you ready to start and grow your coaching business and follow your true calling? Enroll now!
Finish all courses, download the individual courses' certificates and send them to [email protected]
YOU WILL RECEIVE AN OFFICIAL PROFESSIONAL COACH CERTIFICATION, AS WELL AS THE CERTIFIED PROFESSIONAL COACH LOGO TO USE IN YOUR MARKETING MATERIAL.  
You can even be part of Schollege training Instructors on Udemy and all of our education platforms partners! We'll even provide you with the material to create your first online course. Email us at [email protected] to know more!
There are 12 Courses included in this Professional Program
Certified Professional Coach Curriculum:
01 - Survival Skills for the New Trainer
Survival Skills for the New Trainer is a one-day workshop for beginner trainers ready to achieve excellence in their new field. This course is designed as an exploration of the essential skills that trainers need in order to be successful. This soft skills training course includes: understanding the essential background for trainers within any industry; how being genuine enhances training; enhanced communication, from the elements of good questions, to listening skills, and developing rapport; key skills in a trainer's toolbox; and more.
02 - Developing Your Training Program
This Developing Your Training Program course has been designed for trainers who want to develop training programs that are meaningful, practical, and will benefit both trainees and the organizations they work for. Professionals can have different retention levels and various learning curves, and courseware that doesn't account for this might fail.
Participants will learn about the essential elements of a training program; how to apply different methodologies to program design; how to prepare, research, and deliver strong content; how to use an instructional model; and how to create a training program proposal.
03 - Advanced Skills for the Practical Trainer
This course offers instruction that will allow trainers to have maximum impact on the learning of their students.
Students will gain an understanding of program design challenges, changing points of view, and tips on customization. They will also look at competencies for trainers, how to make adjustments for different learning styles, and challenging training situations. Forms and tools are included to help implement four levels of evaluation. Students will also prepare and present their own training demonstrations.
04 - Developing a Training Needs Analysis
This course covers everything that students need to know to perform a training needs analysis. Topics covered include: developing a business case; the ICE Process (Isolate, Consult, Evaluate); tools and techniques for gathering data; an introduction to gap analysis techniques; creating the analysis report; designing follow-up evaluations.
05 - Training with Visual Storytelling
We're very excited about this addition to our Train-the-Trainer bundle, and we're sure that you will be, too! This Training with Visual Storytelling program is all about telling stories that will engage learners and using visual elements to support those stories. We go way beyond PowerPoint and talk about the latest tools and technologies, as well as low-tech ways to present stories and connect with your audience.
06 - The Practical Trainer
The Practical Trainer is a great course for new and aspiring trainers. This course is designed to provide a solid understanding of what adult education entails, and to engage, empower, and encourage learning and development.
This course will get new learners excited about leading classroom learning, actively learning, and applying new skills right away. Sessions include topics such as understanding participants and their training needs; learning styles; adult learning principles; how to write learning objectives and ensure they are met; developing an individual training style; and using training aids. The course is capped off with the delivery of a short training session.
07 - Making Training Stick
What's involved in making training stick?
A professional trainer is only as good as the lessons they leave with their students. If the lesson doesn't stick, then the trainer has missed the mark.
Many types of learners exist, along with several types of methods to make sure learners retain what they have been taught. It's up to the trainer to blend the two fields of thought to present a course that is effective and that stays with the learners.
Making Training Stick helps trainers do just that
08 - Facilitation Skills
Developed to make core facilitation skills better understood and readily available to any organization, the materials and ideas contained in this course have been tested and refined over 20 years of active facilitation in all types of settings.
At the end of this course, participants will be able to:
Distinguish facilitation from instruction and training
Identify the competencies linked to effective small group facilitation
Identify the stages of team development and ways to help teams through each stage
Use common process tools to make meetings easier and more productive
09 - Measuring Training Results
When training is offered, it's important to know:
What was the value of that training?
Did we meet the objectives that were set out?
Did the training bring about some kind of lasting change in behavior?
In this course, we'll explore the essential elements in evaluating training and measuring results, while creating a process that is simple for trainers and human resource practitioners to implement.
Focused entirely on measuring training results, this program covers the framework of a successful evaluation strategy, the four levels of the Kirkpatrick evaluation model, calculating return on investment, creating a cost-benefit analysis, and presenting results to stakeholders.
10 - Developing a Lunch and Learn Program
For most successful organizations, support of employee development is a core part of their culture. These organizations offer learning opportunities that create increased energy, creativity, and fun.
Lunch and Learn programs are an avenue for developing a philosophy of sharing and peer learning and are typically aimed at fostering cross-organization collaboration and communication. They can be used as a tool for sharing information, approaches, and talent. They also offer opportunities for networking in a safe, friendly, and relaxed atmosphere.
This course will provide tools to create a program that generates opportunities for learning that might not happen otherwise in your workplace.
The sessions start with investigating what a Lunch and Learn program is, and then learning how to start and promote one, along with considering topics for a program. Students will learn how to administer a program and the critical elements for success, while also exploring presentation skills. The course wraps up with students delivering their own presentations created during the course.
11 - Using Activities to Make Training Fun
Activities and games provide a more robust and interesting experience for learners and help to engage all their senses. In Using Activities to Make Training Fun, new or nearly new trainers learn to create buy-in by using well-designed activities and games, how to encourage reluctant learners, how to use humor even when they aren't a naturally funny person, and how to create their own activity.
12 - Coaching and Mentoring
Coaching and Mentoring are essential skills for workplace supervisors and leaders. Coaching and Mentoring trainers will illustrate how coaching is based on a partnership that involves giving both support and challenging opportunities to employees. Mentorship is a related skill that includes being a guide, offering wisdom and advice when it is needed. Knowing how and when to coach (and when to use other tools, such as mentoring) is an essential skill that can benefit everyone. This one-day training course will help trainers teach participants:
How coaching can be used to develop a team
The coaching and mentoring skills that help improve individual performance
The behaviors and practices of an effective coach
How to recognize employees' strengths and give them the feedback they need to succeed
How to identify employee problems and ways that they can work to correct them
Frequently asked questions


ABOUT THE COURSE
When does the course start and finish?
The course is self-paced and you may take as long as you need to complete it. There is no time limit for completion.
After purchasing the course, you will receive your enrolment confirmation and access information via email with the next steps, within 24 hours of enrollment.
How long will I have access to the course?
You will have lifetime access to the course through the Schollege LMS
How do I access the course materials?
You will receive your enrolment confirmation and access information via email with the following steps within 24 hours from your enrollment.
Course lectures are not available for download and must be viewed through the platform. Some items, such as course worksheets, will be available to download.
What equipment/tools will I need to complete the course?
You just need access to a computer, spreadsheet software (Excel or the free Google Sheets), and an email account. Post-It Notes or a whiteboard are helpful, but a plain notebook works well too.
PURCHASING THE COURSE
Can I pay with PayPal?
Yes! On the checkout page under the "Billing Information" section, switch from the Credit Card button to the PayPal button. Click "Enroll in Course" to be directed to the PayPal checkout.
What if I am unhappy with the course?
Oh no! We don't want that! We offer a 7-days money back guarantee. If you are unhappy with the course for any reason, let us know within the first 14 days by emailing [email protected] and we will refund your payment.
GETTING HELP
What do I do if I need help?
For questions about your billing or accessing the course materials, email [email protected]
Check your inbox to confirm your subscription