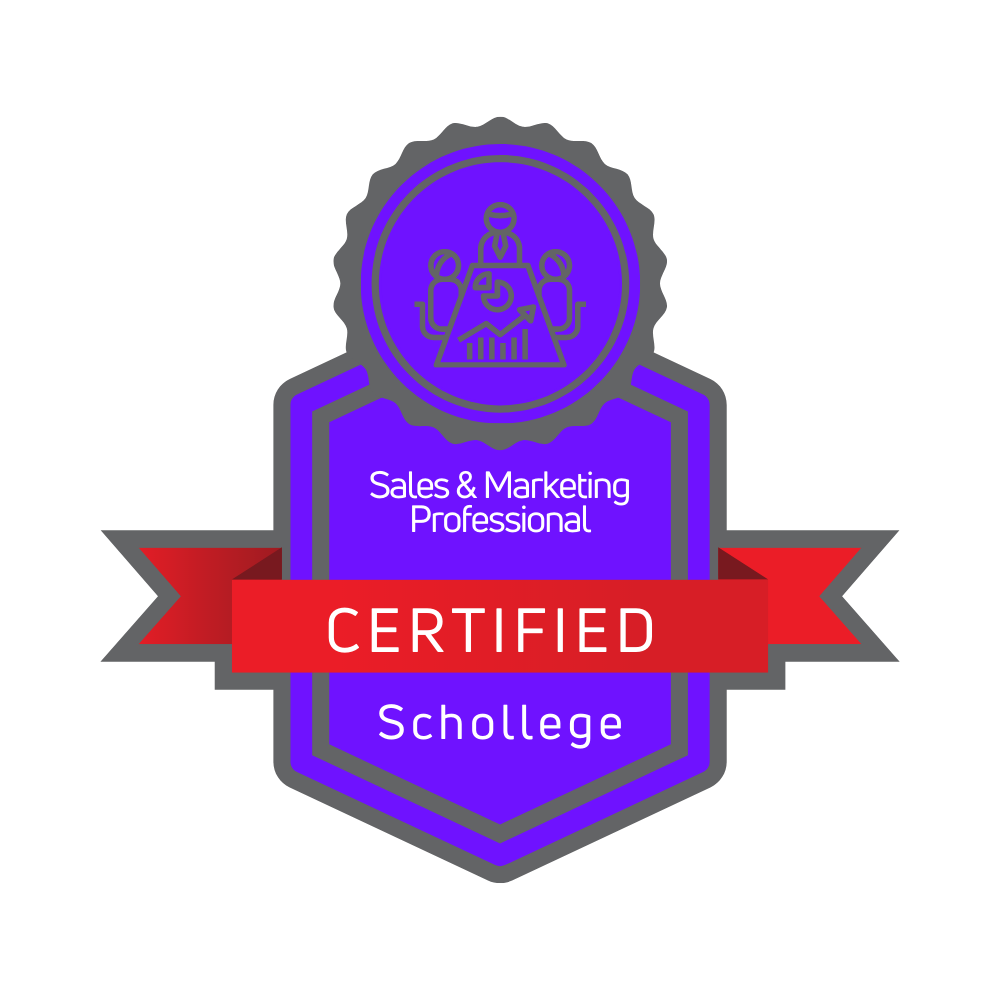 CSMP Overview
The Certified Sales and Marketing Professional program is designed to provide a deeper understanding of the effectiveness and purpose of marketing and sales.
It allows learners to explore a series of critical sales and marketing concepts from a professional business environment. Learners completing these qualifications will develop knowledge and understanding of management essentials in sales and marketing.
The Certified Sales and Marketing Professional (CSMP) Certification equips you with the tools to be the best in the field. It lets employers know that you have real-world, practical expertise readily applied to the current work environment. CSMP gives you the capability, credibility, and confidence to be a high-performing contributor in your organization.
As a Sales and Marketing Professional, you are expected to create solid, real-world results. You are also expected to demonstrate an understanding of various conceptual frameworks used regularly in the field of Sales and Marketing.
At the End of this Course
• Develop negotiation skills and the capability to apply the gained knowledge in new and unfamiliar occurrences, using an understanding of the principles of sales and marketing
• Communicate effectively in a manner suitable to leadership positions
• Earn the capability to utilize new technologies
• Comprehend the principles of sales and marketing and their role in the business environment 
• Evaluate approaches to sales and marketing analysis
• Apply strategic sales ad marketing decisions and choices
• Evaluate the use of sales and marketing strategies for your competitive advantage
There are 13 Courses included in this Professional Program
Certified Sales & Marketing Professional Curriculum:
01 - Ten Minutes Presentation
Presentations are a fundamental means of building business relationships and partnerships that sustain and grow companies. In the calendars of busy customers and investors, time is literally money. In 10-Minute Presentations, learn how to craft and polish an engaging, professional presentation that shares a message and call to action swiftly and clearly. This will maximize impact, conversions, and productivity.
This course will teach the essentials of a good presentation, platforms that enhance a message and reach, setting goals and timelines for presentations, creating engaging narrative from outline through the final draft, editing and polishing presentations, offering and receiving peer review, and developing best practices for future presentations.
02 - Trade Shows: Getting the Most Out Of Your Experience
This course guides trade show vendors through successfully preparing for and attending a trade show.
The seven Lectures in this course contain activities woven throughout that build upon the lessons. Some of the topics include attendees, knowing why you are there, making good impressions, promotions, prospecting, and after the show.
03 - Social Selling for Small Businesses
This course explores why social selling is an essential requirement for sales teams in today's business environment, and how the relationships that are created and nurtured within social media can help grow and sustain a business. How to apply specific techniques to connect with an audience and potential fans in the social space will also be looked at.
04 - Telemarketing: Using the Telephone as a Sales Tool
This course will show you how the telephone can supplement, enhance, and sometimes replace other means of marketing and selling, and how this personal approach can dramatically increase your sales success. We will also talk about how to hone your communication skills, your ability to persuade, and techniques to personalize each sales call.
05 - Building Relationships for Success in Sales
In this course, participants will discover that the business of all sales professionals is making friends and building relationships, no matter the size of the company or the type of market.
This course will help you teach:
The benefits of developing a support network of connections.
How building relationships can help you develop a solid business base.
How to apply communication techniques to build a contact network.
The key elements of a strong working relationship, how to employ these elements in their working relationships, and more.
06 - Call Center Training: Sales and Customer Service Training for Call Center Agents
The success of Call Centers depends on well-trained agents who understand the best ways to listen and be heard. Each customer interaction has elements of both sales and customer service skills, which trainers will explore in detail throughout this workshop.
This course will help you learn: the nuances of body language and verbal skills; aspects of verbal communication such as tone, cadence, and pitch; questioning and listening skills; how to deliver bad news and say 'no'; effective ways to negotiate; the importance of creating and delivering meaningful messages; tools to facilitate their communication; the value of personalizing their interactions and developing relationships; vocal techniques that will enhance their speech and communication ability; and personalized techniques for managing stress.
07 - Branding: Creating and Managing Your Corporate Brand
A good brand is much more than an attractive image combined with some witty type. It must reflect the heart and soul of a company's product or service and offer a promise the business can live up to. This course covers the basics of branding, getting participants on the road to creating a perfect brand.
This course includes: how to develop a visual identity from start to finish, from writing a mission, vision, and style statement for a brand, and understanding the basics of creating a visual identity, to effectively planning internal and external brand launches, and how to monitor and evaluate a brand and respond to the results.
08 - Reading Body Language as a Sales Tool
Our body language can help to reinforce and add credibility to what we say, or it can contradict our words. Understanding what signals you are sending, as well as being able to read the signals that your clients send, is an essential skill in sales.
You will learn how to capitalize on these techniques. This course will help participants learn about body language and apply that knowledge to improve communication.
At the end of the course, you will understand the implications of space during a conversation, understand the nuances of body language, know how to use techniques to build rapport, think about how they project themselves, and consider the message behind the words, along with acquiring other useful information.
09 - CRM: Introduction To Customer Relationship Management
This course will help trainers introduce the different facets of Customer Relationship Management (CRM). Our course will also help participants to identify who their customers really are, analyze the key components of CRM, and understand how it can potentially integrate with their organization.
This training course will help you learn how to:
Work through the benefits of CRM on a company's bottom line
Analyze the different components of a CRM plan
Describe how customer relationship management can provide value for organizations and customers and more.
10 - Selling Smarter
Trainers know that Selling Smarter is the key to success for sales professionals. Sales is an exciting and dynamic profession, where highly trained and sophisticated individuals engage with customers and rise to the top of their sales teams by being honest, trustworthy, and competent. In this advanced sales training course, participants will learn sales techniques and skills to increase their results by identifying needs and persuading potential customers to do business. They'll also achieve the following objectives:
How to apply customer-focused sales techniques
How to use goal-setting techniques and strategies as a way to focus on what they want to accomplish
How to use success techniques to get the most out of their work
How to Understand productivity techniques to maximize the use of time
How to identify ways to find new clients and network effectively
11 - Prospecting for Leads like a Pro
Prospecting for Leads Like a Pro. Sales professionals know that prospecting and lead-generation techniques are the keys to their success, but they may need to learn how having an effective sales system frees more time for developing relationships and making measurable sales. This training course teaches participants to apply the 80/20 rule effectively, to assess who to target and how, to commit to prospecting for a portion of every day, to develop and practice networking skills, and to refine and deliver by improving their approach, and making more sales.
12 - Overcoming Objections to Nail the Sale
Corporate trainers are always looking for ways to help sales professionals overcome customer objections and convert them to a sale. In this course, Overcoming Objections to Nail the Sale, you will help participants work through objections effectively and convert those prospects to sales. You'll help them plan and prepare for objections so that they can handle customer concerns, reduce the number of objections they encounter, and improve their averages at closing sales. Specific learning objectives include the following:
Identifying the steps in building credibility
Identifying the objections encountered most frequently and learning how to manage them
Using proven rebuttals that get the sale back on track
Learning how to recognize when a prospect is ready to buy
13 - Dynamite Sales Presentations
Sales trainers know that a great sales presentation does not need bells and whistles to impress a client. Instead, the best sales presentations effectively demonstrate product knowledge as well as an understanding of what problems the client has, and the solutions they need. This course will help you teach participants how to create a winning proposal and how to turn it into a dynamite sales presentation. Specific learning objectives include:
Identifying the key elements of a quality proposal
Mastering the first impression, from clothing to the handshake
Feeling more comfortable and professional in face-to-face presentations
Writing a winning proposal
Achieving comfort and professionalism during presentations
Frequently asked questions


ABOUT THE COURSE
When does the course start and finish?
The course is self-paced and you may take as long as you need to complete it. There is no time limit for completion.
After purchasing the course, you will receive your enrolment confirmation and access information via email with the next steps, within 24 hours of enrollment.
How long will I have access to the course?
You will have lifetime access to the course through the Schollege LMS
How do I access the course materials?
You will receive your enrolment confirmation and access information via email with the following steps within 24 hours from your enrollment.
Course lectures are not available for download and must be viewed through the platform. Some items, such as course worksheets, will be available to download.
What equipment/tools will I need to complete the course?
You just need access to a computer, spreadsheet software (Excel or the free Google Sheets), and an email account. Post-It Notes or a whiteboard are helpful, but a plain notebook works well too.
PURCHASING THE COURSE
Can I pay with PayPal?
Yes! On the checkout page under the "Billing Information" section, switch from the Credit Card button to the PayPal button. Click "Enroll in Course" to be directed to the PayPal checkout.
What if I am unhappy with the course?
Oh no! We don't want that! We offer a 7-days money back guarantee. If you are unhappy with the course for any reason, let us know within the first 14 days by emailing [email protected] and we will refund your payment.
GETTING HELP
What do I do if I need help?
For questions about your billing or accessing the course materials, email [email protected]
Check your inbox to confirm your subscription