Certified Security Analyst | ECSA
The EC-Council Certified Security Analyst (ECSA) course is a fully hands-on program with labs and exercises that cover real world scenarios. By practicing the skills that are provided to you in the ECSA class, we are able to bring you up to speed with the skills to uncover the security threats that organizations are vulnerable to.
This can be achieved effectively with the EC-Council iLabs Cyber Range. It allows you to dynamically access a host of Virtual Machines preconfigured with vulnerabilities, exploits, tools, and scripts from anywhere with an internet connection.
Our guided step-by-step labs include exercises with detailed tasks, supporting tools, and additional materials allowing you to launch a complete live range for any form of hacking or testing.
Course Description
The ECSA program offers seamless learning progress continuing where the CEH program left off. The new ECSAv10 includes updated curricula and an industry-recognized comprehensive step-by-step penetration testing methodology. This allows a learner to elevate their ability in applying new skills learned through intensive practical labs and challenges.
Unlike most other pen testing programs that only follow a generic kill chain methodology; the ECSA presents a set of distinguishable comprehensive methodologies that are able to cover different pentesting requirements across different verticals.
It is a highly interactive, comprehensive, standards-based, intensive 5-days training program that teaches information security professionals how professional real-life penetration testing are conducted. Building on the knowledge, skills and abilities covered in the new CEH v10 program, we have simultaneously re-engineered the ECSA program as a progression from the former.
Organizations today demand a professional level pentesting program and not just pentesting programs that provide training on how to hack through applications and networks.
Such professional level programs can only be achieved when the core of the curricula maps with and is compliant to government and/or industry published pentesting frameworks. This course is a part of the VAPT Track of EC-Council. This is a "Professional" level course, with the Certified Ethical Hacker being the "Core" and the Licensed Penetration Tester being the "Master" level certification.
In the new ECSAv10 course, students that pass the knowledge exam are given an option to pursue a fully practical exam that provides an avenue for them to test their skills, earning them the ECSA (Practical) credential. This new credential allows employers to validate easily the skills of the student.
Enroll with Interest-Free
Monthly Payments
No Credit Checks - 0% Interest - No Application or Registration - No late Fees - Instant Approval - Works with your existing Credit
We have partnered with Splitit to turn your purchase into smaller, bite-sized payments.
Click Here for more information about Splitit, and if you are happy to proceed, send us an email and ask for an Installment Plan.
You will receive a temporary link that will give you a choice to pay with up to 12 months interest-free monthly payments.
After finalising the payment process, you will receive your enrolment confirmation and access information via email with the next steps, within 36 hours or at the specified course's commencement date.
Installments starts from less than $150/ month
Who is it for?
Ethical Hackers
Penetration Testers
Network server administrators
Firewall Administrators
Security Testers
System Administrators and Risk Assessment professionals
Course Outline
Module 00: Penetration Testing Essential Concepts (Self-Study)
Module 01: Introduction to Penetratiaon Testing and Methodologies
Module 02: Penetration Testing Scoping and Engagement Methodology
Module 03: Open-Source Intelligence (OSINT) Methodology
Module 04: Social Engineering Penetration Testing Methodology
Module 05: Network Penetration Testing Methodology – External
Module 06: Network Penetration Testing Methodology – Internal
Module 07: Network Penetration Testing Methodology – Perimeter Devices
Module 08: Web Application Penetration Testing Methodology
Module 09: Database Penetration Testing Methodology
Module 10: Wireless Penetration Testing Methodology
Module 11: Cloud Penetration Testing Methodology
Module 12: Report Writing and Post Testing Actions
What's New
Maps to NICE 2.0 Framework
All New Module for Social Engineering Pen Testing
Blended with both manual and automated
penetration testing approach
Increased Focus on Methodologies
Presents a comprehensive scoping
and engagement methodology
Provides strong reporting writing guidance to draft valuable and comprehensive penetration report.
Hands-on labs demonstrating practical and realtime experience on each of area of penetration testing
Provides standard templates that are required
during penetration test
Designed based on the most common penetration testing services provided by the penetration testing service providers and consulting firms in the market including:
Network Penetration Testing
Web Application Penetration Testing
Social Engineering Penetration Testing
Wireless Penetration Testing
Cloud Penetration Testing
Database Penetration Testing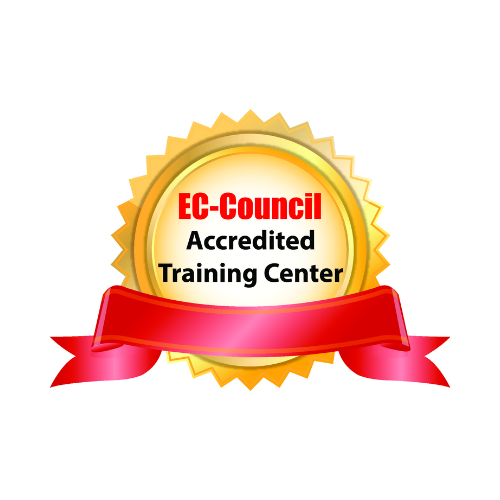 EC-COUNCIL
EC-Council has been the world's leading information security certification body since the launch of its flagship program, Certified Ethical Hacker (CEH), which created the ethical hacking industry in 2002. Since the launch of CEH, EC-Council has added industry-leading programs to their portfolio to cover all aspects of information security including EC-Council Certified Security Analyst (ECSA), Computer Hacking Forensics Investigator (CHFI), Certified Chief Information Security Officer (CCISO), among others.