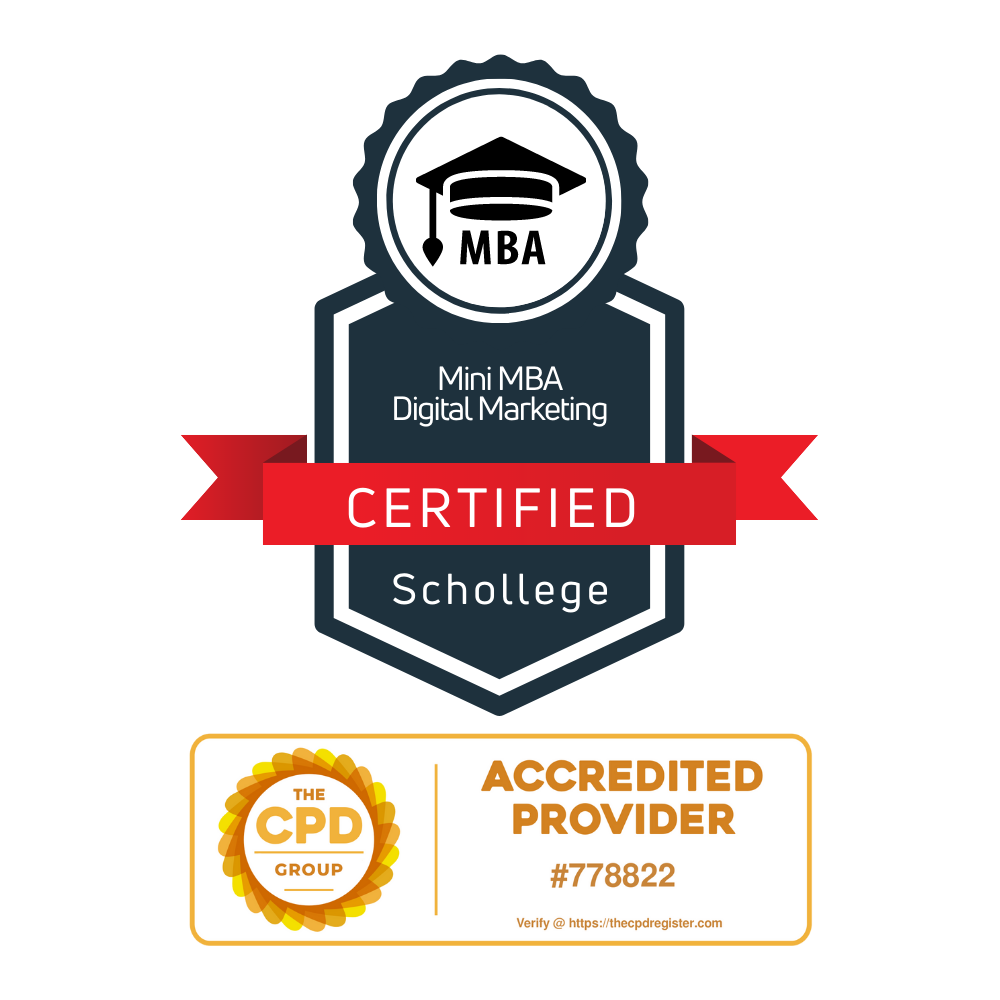 Overview
The Mini MBA, as the name would suggest, is a fast-track format of the MBA, concentrating what would be one or two years of content into few hours of study. Considering the accelerated format, many may wonder, "what is the value of a mini MBA?". The Mini MBA is like a terrace view of the business landscape. The Mini MBA offers a picture of how all the pieces work together.
About this program
This Mini-MBA focuses on developing your business skills. 
It is an online fast-track program that covers all core areas of general business management.
The Mini-MBA is a quick and cost-effective way to reach your next career goal and boost your employment profile.
It compresses the most important aspects of traditional management studies into six exciting and affordable online courses plus the Digital Marketing Specialization course.
The Mini-MBA is designed for:
People who want to get a foundational understanding of the world of business and lay the perfect foundation for their career path.
Managers who want to enhance their knowledge in various business-related areas and advance in their careers.
People who want to get the core insights of an MBA-style education in an accelerated and affordable manner.
Obtain the ultimate business-skillset
This Mini-MBA will equip you with a robust set of core business skills, essential tools, and a foundational understanding of management principles.
Management experts carefully developed this program's curriculum and content, who knows which skills really matter to succeed in today's complex business world.


Why Digital Marketing?
Digital marketing is no longer an emerging field of industry. Your customers constantly make decisions about your business online – long before any traditional communications fill the mind. Our Mini-MBA in Digital Marketing will empower you to think strategically, not just tactically.
Whether you prefer to call it "Digital marketing", "internet marketing", "emarketing", or "online marketing". Digital marketing is a complex approach consisting of several types of marketing activities, which use different platforms to connect with online customers and transmit the message.
In this program, each of these Digital marketing approaches is analyzed to help you with the overall internet marketing strategy. Each type of digital marketing strategy and activity is explained in terms of definition, essential concepts, and practices to leverage a website to a new level.
Steps for developing a successful digital marketing strategy incorporate all the types of digital marketing activities into an approach based on the business' needs and distinctive features, allowing you to adapt your own strategy so that you are most likely to achieve your goals.
This program will give you the tools to excel in the industry. We highly encourage you to share your Mini-MBA certificate on your LinkedIn profile and resume to demonstrate your accomplishments and highlight your knowledge.
There are 12 Courses in this Professional Certificate


Course 1: Business Process Management
Business process management helps organizations control processes to achieve their goals and to be successful. Once processes are implemented, they must be monitored, evaluated, and optimized to make sure they are still meeting the goals that they were designed to accomplish. A business that can successfully manage its processes is able to maintain a competitive edge, while increasing productivity and efficiency and decreasing costs.
This course will introduce participants to business process management. Students will learn how business processes can help improve their company's bottom line by providing a higher level of quality and consistency for customers.
This course is based on the six steps of the business process life cycle (create, design, model, execute, monitor, and optimize). It also includes information on process improvement tools such as Lean and Six Sigma.


Course 2: Global Business Strategies
This Basic Business Management: Boot Camp courseware program includes everything a student needs to get started on the road to success.
With sessions on inventory management, human resources, finance and accounting, marketing, sales, and even using social networking, students will be prepared to manage their new business. In addition, students will learn about different business structures, who is managing and who is leading, how to create a brand, and the value of a strategic plan.
Course 3: Communication Strategies
Communication Strategies will provide participants with an understanding of the impact that their communication skills can have on others, while exploring the different ways in which developing these skills can make it easier for them to succeed in the office and beyond.
This training course includes: identification of common communication problems; developing skills to ask questions; learning what their non-verbal messages are saying; developing skills in listening actively and empathetically to others; enhancing the ability to handle difficult situations; and dealing with situations assertively.
Course 4: Marketing And Sales
A small marketing budget doesn't mean you can't meet goals and business objectives, but it does require more creative marketing tactics. This course will show how to get maximum exposure at minimum cost, with effective, low-cost, and non-cost strategies to improve sales, develop a company's image, and build the bottom line.
Topics covered include: a working definition of marketing; how to recognize trends; strategies for success; the value of trade shows; how to develop a marketing plan; and more.
Course 5: Budgets and Managing Money
Budgets and Managing Money will teach participants how to make informed and intelligent financial decisions. Rather than being omitted from the process, managers who don't have a background in finance can fully participate in budgeting decisions and exercises once they have completed this training course.
This course includes lessons on basic financial terminology, budget preparation techniques, and tools such as ratio analysis, good budget decision making skills, and more.
Course 6: Managing Customer Service
The need for leading, promoting, and enhancing a customer-focused culture is essential within every organization.
This Customer Service Training: Managing Customer Service workshop will provide participants with an opportunity to explore their responsibilities within their role as a leader, supervisor, or manager in a customer service environment. As participants discuss the various skills and techniques, they will draw from their own personal and varied experiences to share elements of reward and challenge.
Participants will learn:
How to identify ways to establish links between excellence in customer service and their business practices and policies
How to develop the skills and practices that are essential elements of a customer focused manager
How to recognize what employees are looking for to be truly engaged
How to recognize who the customers are and what they are looking for
How to develop strategies for creating engaged employees and satisfied customers in whatever business units you manage
Course 7: Purchasing and Procurement Basics
Purchasing and Procurement Basics are a key skill set for any employee to develop.
Purchasing and procurement extends past getting the products and services that the organization needs at the right time and the right cost. This field has
evolved to include relationship building, supply chain management integration, and communication with stakeholders to continually improve processes and
results.
This course covers all the essentials of purchasing and procurement. Some of the topics covered include:
The value of procurement
The five rights of purchasing
Checklist for supplier evaluation
The purchasing cycle
Managing competitive bidding with RFPs and RFQs
Techniques for successful negotiation
Risk management
Agile procurement
The role of cross-functional teams in purchasing and procurement
Tools of the trade, such as EDI, ERP, and e-commerce
Course 8: Human Resources Training: HR for the Non-HR Manager
This course is designed for teaching the essential Human Resources tasks and scope of responsibilities for people who are new to a management role.
Human Resources Training: Training HR for the Non HR Manager covers the following topics:
The basics of HR Management, including orientation, compensation, and benefits
Understanding job analysis
Planning training
Legally defensible terminations, and more.
Course 9: Basic Internet Marketing
Our Basic Internet Marketing courseware is designed for training business owners and beginners alike the basic skills for marketing online. Traditional marketing still serves its purpose, but with the increase in global business, internet marketing is crucial to extending your reach, and this one-day training course will help trainers deliver those results.
These training materials will help learners to develop the skills required to determine how their internet marketing strategy fits with their overall strategy, influence and engage users in the online space, get started with search engine optimization (SEO), use online advertising as a tool to boost results, and to make use of metrics and reporting.
Course 10: Building a Brand on Social Media
Your brand speaks for your company and its products and/or services. In today's online-focused world, it's important that your brand has a definitive, consistent, and responsive presence.
This one-day Building a Brand on Social Media training package is an essential addition to your internet marketing and social media course offerings. We've designed an interactive program that will teach participants how to build, implement, review, and revise a social media branding strategy.
Topics include key strategy elements, hot social media platforms, brand-focused messages, and social media guidelines.
Course 11: Story Marketing for Small Businesses
Story marketing is the process of attracting and engaging customers through narrative – their story, rather than yours. Instead of the 'buy our product' messages of typical marketing campaigns, story marketing motivates the customer to connect with your company as a solution to their problem or a way to a better life.
This course highlights the essentials for your small business: how to write and refine your own tale for marketing to your target audience.
This workshop will help you recognize and use the essential tools of story marketing; the basics of good storytelling; ways to connect with your customers; how to refine your company brand; and how to build and polish your own story for maximum results.
Course 12: Writing for the Web
Web users have become experts at scrolling through text and scanning the articles that they read on the web. To adapt, our writing style has to separate itself from the standard form it takes in print, in order to attract and maintain the attention of readers on the internet. Because of this, writing for the web has become a specialized skill. With this content-rich course, students will be able to study engaging techniques that:
draw readers to web pages
simplify the process of working with designers
incorporate audio and video content to attract a broad range of users
empower learners to make use of keyword optimization and SEO
You will also get free access to...
Frequently asked questions


ABOUT THE COURSE
When does the course start and finish?
The course is self-paced and you may take as long as you need to complete it. There is no time limit for completion.
After purchasing the course, you will receive your enrolment confirmation and access information via email with the next steps, within 24 hours of enrollment.
How long will I have access to the course?
You will have lifetime access to the course through the Schollege LMS
How do I access the course materials?
You will receive your enrolment confirmation and access information via email with the following steps within 24 hours from your enrollment.
Course lectures are not available for download and must be viewed through the platform. Some items, such as course worksheets, will be available to download.
What equipment/tools will I need to complete the course?
You just need access to a computer, spreadsheet software (Excel or the free Google Sheets), and an email account. Post-It Notes or a whiteboard are helpful, but a plain notebook works well too.
PURCHASING THE COURSE
Can I pay with PayPal?
Yes! On the checkout page under the "Billing Information" section, switch from the Credit Card button to the PayPal button. Click "Enroll in Course" to be directed to the PayPal checkout.
What if I am unhappy with the course?
Oh no! We don't want that! We offer a 7-days money back guarantee. If you are unhappy with the course for any reason, let us know within the first 14 days by emailing [email protected] and we will refund your payment.
GETTING HELP
What do I do if I need help?
For questions about your billing or accessing the course materials, email [email protected]
Check your inbox to confirm your subscription