Overview
SCRUMstudy™ conducts 1-hour free Scrum webinar followed by 4-hour Virtual Instructor-led class to prepare students for the Scrum Fundamentals Certified (SFC™) certification exam. After attending this class, participants can take the SFC™ certification exam (which is a one hour unproctored exam with forty multiple choice questions), and get the highly valued SFC™ credential.
'Scrum Fundamentals Certified' course is tailored to help anyone interested to know more about Scrum; learn about key concepts in Scrum as defined in the SBOK® Guide; and to get a basic understanding of how Scrum framework works in delivering successful projects. This course is included as a part of Free Primary Lifetime Membership. The purpose of the 'Scrum Fundamentals Certified' exam is to confirm you have basic understanding of the Scrum framework. On passing the exam, you will be accredited as "Scrum Fundamentals Certified".
Successful candidates will be awarded the Scrum Master Certified (SMC™) certification by SCRUMstudy after passing the certification exam.
Prerequisites
There is no formal prerequisite for this course.
Who this course is for
Anyone interested in knowing more about Scrum and Agile can take up this course and exam for free.
What you'll learn
No physical courseware required. E-copies of all courseware including the SBOK® Guide, Course Presentation, and Process Chart will be sent to your registered email address.
Online Resources and Mobile App - You also get access to the complimentary SFC™ online course, which consists of high quality videos; interactive case studies; chapter tests; important terms and concepts; and more. This course can also be studied using the high-end VMEdu® mobile app.
Examination
Multiple choice
40 questions per exam
One mark awarded for every right answer
No negative marks for wrong answers
30 questions need to be answered correctly to pass
60 minutes duration
Online unproctored exam
Scrum Fundamentals Certified (SFC™) Certificate
Successful candidates are awarded the Scrum Fundamentals Certified (SFC™) certification from SCRUMstudy™ and receive a soft copy of the certificate by email.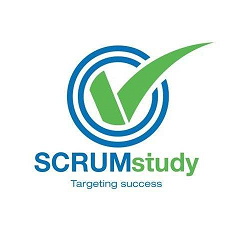 SCRUMstudy™
Powered by VMEdu
SCRUMstudy™ is the global accreditation body for Scrum and Agile certifications. It has authored the SBOK® Guide as a comprehensive guide to deliver successful projects using Scrum.
SCRUMstudy™ works through its large global partner network of Authorized Training Providers (A.T.P.s) to deliver trainings and certifications.
Important certifications provided by SCRUMstudy™ include Scrum Fundamentals Certified(SFC™), Scrum Developer Certified (SDC®), Scrum Master Certified (SMC®), Scaled Scrum Master Certified (SSMC™),
SCRUMstudy Agile Master Certified (SAMC™), Scrum Product Owner Certified (SPOC®), Scaled Scrum Product Owner Certified (SSPOC™) and Expert Scrum Master Certified (ESMC™)